About Andrew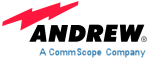 ANDREW, with 7000 staff operating in the telecommunication field, is a world leader company in the production and supply of materials that range from passive RF elements to sophisticated electronic equipment like basic stations for cellular telephony or amplifiers for tunnel radiating cables.

The prime ANDREW products, available with 2000 articles in the TELSAT warehouse, comprise coaxial cables from ¼" to 5" with relative connectors, waveguides from 5 GHz to 24 GHz with relative connectors, parabolic antennas for radio and satellite links, Wi-Fi antennas and dehydrators. Moreover a complete range of accessories for the installation of these products, especially concerning coaxial cables and waveguides, for which TELSAT can predispose any size and length required by the Customer in a very short time.

The cable and waveguide cutting is tailor-made, in accordance with the Customer's specification or based on the necessary project data. Where foreseen, after the mounting of connectors, TELSAT executes phase and pressurization tests.

The ANDREW products are distinguishable by the typical red "Flash", which after years of satisfaction to the Customer, has become a synonym of quality and reliability.