About Kathrein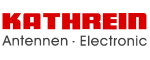 KATHREIN is one of the largest manufacturing companies of professional telecommunication antenna systems, with 3500 working staff. TELSAT is the KATHREIN representative for the bradcasting sector, with a wide range of products that include transmitting antennas (panels, log-periodic, Yagi, dipoles, etc.) and power dividers for FM, TV, DAB and DVB-T.

A team of qualified KATHREIN engineers supplies TELSAT complete support during the design and production of antenna systems. TELSAT holds the right of use of the specific software for the design of antenna systems supplied by KATHREIN.

The KATHREIN broadcasting range is present with more than 200 types of products at the TELSAT warehouse for the immediate satisfaction of the Customer.