BSP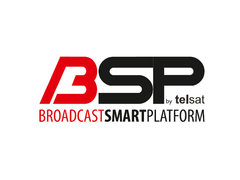 Broadcast Smart Platform
Thanks to the new digital technologies, all the hardware of a complete transmission site can now be integrated into a new device. The BSP by TELSAT is the most compact solution that allows to have all the functionalities of a TV or FM broadcasting site in a single, mast-mounted, small-sized box. Low power consumption, low electromagnetic pollution, quick & easy installation are the key features making the BSP the brand-new frontier for broadcasting signals coverage.
The technology developed by TELSAT and its valued Partners (TRX Innovate and Plisch) allows to set up totally self-sufficient transmission stations, by using mono-directional satellite distribution, with a power supply obtained by alternative energy-sources.
The cell-based network-model allows to cover vast territories in a smart way, by transmitting the signal only to the needed areas, using low-power transmitters and avoiding power and money waste to cover unnecessary areas. Moreover, it also allows scalable investments, whose economic return would be impossible to achieve with the traditional business model.
Complete turnkey platform from a single provider.
Revolutionary technology designed to optimise costs and performances and compatible with the current standards.
Flexible and adaptable solutions that can satisfy any specific requirement.
Complete Network Management Software included
Downloads