NAB Show Las Vegas | Sun 19th - Wed 22th April 2020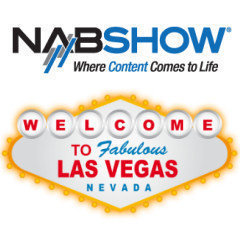 NAB Show is the leading training event for content creators including in-booth training presented by exhibitors. More than 1,600 companies on display, creating the world's largest marketplace showcasing technologies for every aspect of Media, Entertainment and Technology.
For the first time, the NAB Show exhibition starts on Sunday instead of Monday as usually done in the past years. Register at
www.nabshow.com
and attendee this great 2020 show!
NAB Show® is an unrivaled source. For content professionals from all corners of the media, entertainment and technology ecosystem. For those seeking to create superior audio and visual experiences. For those striving to drive listeners and viewers in larger numbers for greater reach. No matter where you fall on the content continuum - from creation to distribution, management to monetization - you'll find a renewed path to clarity and confidence that takes your work in bold new directions.
Book in advance, and take advantage of this complimentary invite code LV5268 to come see us at
Booth #N6825.