Directional Antenna Log UHF In 7/16" Banda "IV" - "V"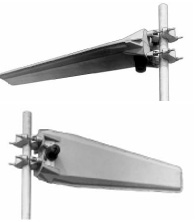 Directional 470 - 860
K 72 23 47, K 72 23 41
Logarithmic-periodic broadband directional antenna in fiberglas radome.
High side-lobe suppression.
Material:Radiator: Weather-resistant aluminum.
Radome: Fiberglass, colour: Grey.
Mounting kit: Aluminum.
All screws and nuts: Stainless steel.
Mounting:To tubular masts of 48 - 115 mm diameter using supplied clamps.
Ice protection:Since radiating system is fully protected by the
radome and due to its very sturdy construction, the antenna remains fully operational even under heavy icy conditions.
Grounding:Via mounting parts.
Combinations:Several antennas can be combined to increase the gain and to produce radiation patterns with very high side-lobe suppressions.
Product Code: 750 10393