Broadcast Solutions
Telsat has developed a unique and valuable experience on Transmitters sector either in TV, either in Radio.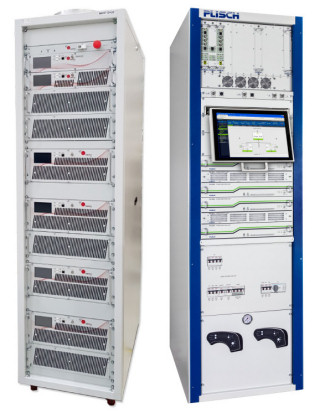 During the years
Telsat
has become one of the main distributor of the products realized by
Plisch GmbH
, a leading manufacturer of digital transmitter systems, which provides some of the most advanced solutions, to suit individual Customer requirements.
Plisch products family, integrated by Telsat, includes a wide variety of models related to the digital standards DVB-T2, DVB-T/H, ISDB-T/TB, ATSC, DAB/DAB+/DMB, as well as Analogue TV.
Plisch transmitters, having one of the best energy efficiency available in the world-wide market, are a real synonymous of high quality and reliability.
Thanks to a constant synergistic collaboration, Telsat offers Plisch transmitters to its Customers, together with exclusive installation, commissioning and training services.
Telsat owns indeed a brilliant internal technical department, able to provide its Customers with complete turnkey solutions, with highly specialized technical assistance, including on-site support.
It requires a great deal of passion and commitment to stay one step ahead. Only a company that really knows the market and leads it with technological advancements can be considered as one of the best.
With this same philosophy approach Telsat has entered the FM transmitter manufacturers world with its own marKoni line: a family of devices composed by MKRT models, equipped with an exclusive digital modulator, which allows brilliant performances.
The conception of marKoni transmitters provides a strong reliability, due to oversized and redundant power supplies and high performing amplification circuits, realized with mosfet devices, which are able to guarantee excellent results, with very high efficiency (around 75%) and consequent low heating of all components.
On the big full-colour touch screen display you are able to view or change all system parameters and, in the transmitters with over 5Kw output power, also all values of the single amplifier units.
The pure digital audio sensation that marKoni can create is obtained also thanks to a revolutionary Soft Limiter, which avoids audio intermodulation peaks, safeguarding the integrity of the whole input dynamic range and with the use of accurate signal processing, allowing high full-band stereo separation and extreme signal-to-noise ratio.